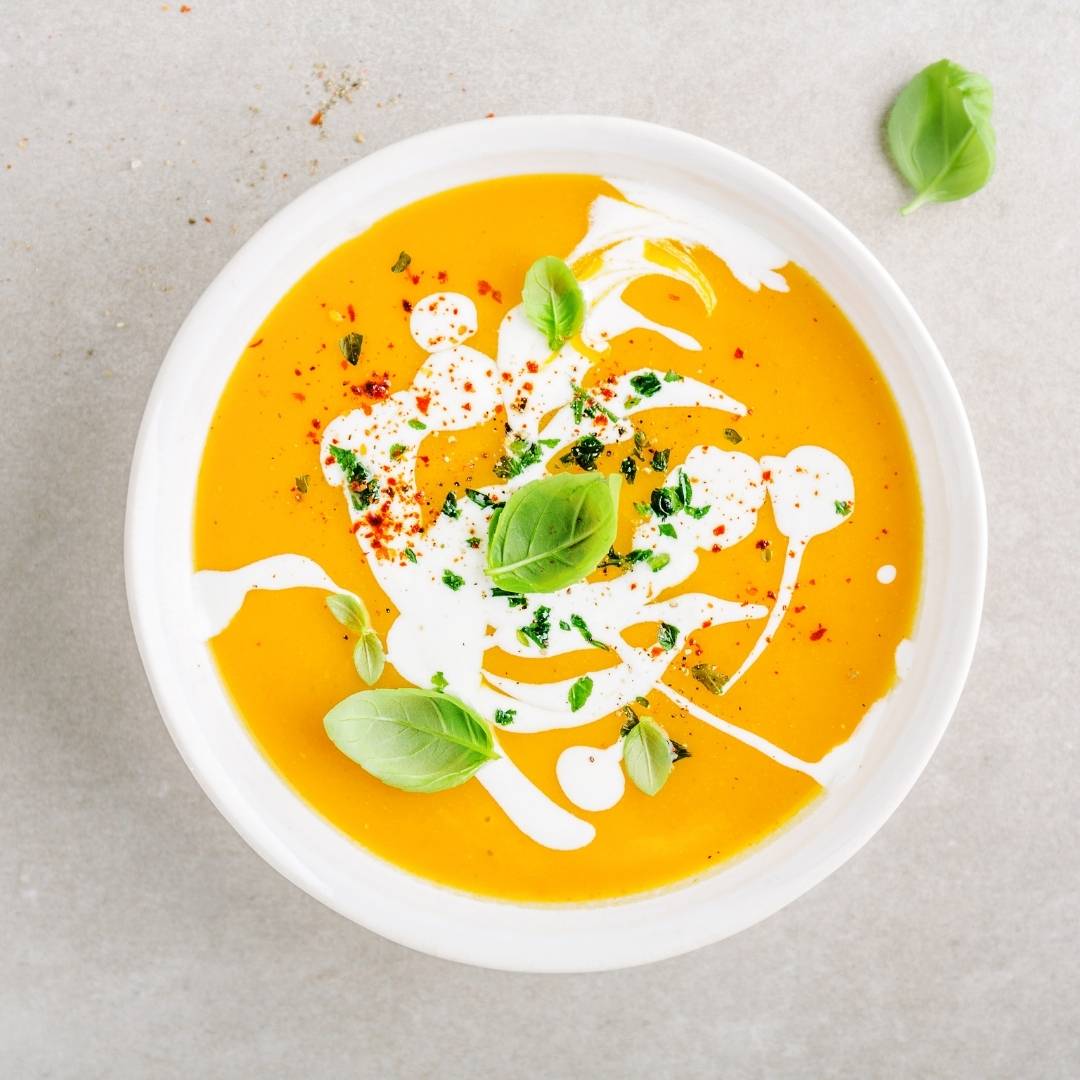 24 May

6 Tips to Creating a Quick and Delicious Winter Soup

A nice hot bowl of soup is perfect on a cold winter's day! Packet or tinned soups can be a very quick and convenient option, however nothing beats a hearty homemade soup done yourself. We've got a list of tips to help make a quick and delicious homemade soup to get you through winter.
1. Sautéing The Vegetables
Sauteing vegetables before adding them into a soup is one fantastic way to help them keep their delicious flavours and can help them hold their shape. To do this, throw your chopped vegetables into a medium-hot frying pan with some oil or butter and toss or stir around until tender.
2. Save Time
Making a soup on the stove top can be a long process, they do say 'a watched pot never boils'! If you're sauteing your vegetables first, you can put your vegetable stock or stock of choice in a cup or bowl in the microwave to heat it up while you are waiting for your veggies to cook. Then simply add the hot stock and you've just saved yourself lots of time!
3. Lid Trick
If you're following a recipe and it doesn't specify whether to keep the pot lid on or off while the soup cooks, a simple solution is to just keep it on. This lets the liquid come to a simmer, and helps it cook the ingredients quickly. Be sure to keep a close eye on it though so it doesn't boil over, or boil dry!
4. Microwave
Ah yes, the power of the microwave! This handy tool is another great option for creating a quick soup in a cup or for precooking your veggies before popping them in the pot! Chop your vegetables and place them in a microwave safe container with some water. Put on for a couple of minutes at a time and check the vegetables often to make sure they're not overcooked. When tender, throw them into the stock on the stove and cook all the flavours together for a few minutes.
If you haven't already got a microwave safe jug or bowl, head into Dollars & Cents at Central South Morang as they have a range of microwave safe jugs, bowls and containers that you can choose from.
5. Keep It Small
Chunky soups are great but cutting your veggies up smaller will allow them to cook quicker. Try to cut the same size pieces for the same density vegetable so they all cook through consistently. e.g. Carrot and Potato are very dense and take a long time to cook so keep these smaller or add them earlier than other vegetables that won't take as long to cook.
6. Pick Your Veggies Wisely
When it comes to quick soups, naturally soups with more liquid or veggies that have a higher percentage of water are better for a quick and easy soup. Soups with potato or other hardy vegetables (although delicious) take longer to cook and will increase the time it takes to make your soup.  Soups like tomato soup, or chicken and corn or leek are a lot quicker, so if you're wanting to save some time, opt for one of these options.
Head into Central Fresh Market to collect some delicious, fresh vegetables for your winter cook up.
Quick and Easy Soup
We love this great quick and easy Speedy Chicken Noodle Soup recipe from Woolworths. Perfect for a quick dinner on a cold night. This recipe will only take 15 minutes and serves 4.
However, if you're looking to make this recipe even quicker and easier, instead of using chicken mince pick up a cooked BBQ chicken up from Woolies at Central South Morang, shred it up and use that instead! Don't forget to pop by Inang's Asiamart to pick up your noodles.
To keep up to date with our latest news, retailers and giveaways, follow us on Facebook and Instagram.