05 Feb

Chinese New Year Celebrations

Pho Sunday Rose will be putting on a traditional lion dance and firecracker show on the 10th of February!

Come and join us for the show and celebrations from 7pm out the front of the Pho Sunday Rose Restaurant.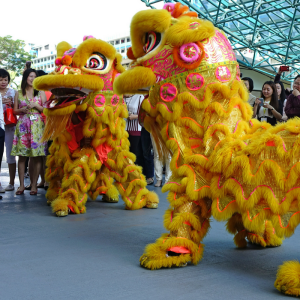 If you would like to celebrate the New Year even further, why not book a table at Pho Sunday Rose for the evening and enjoy the festivites with family and friends?
They have a wonderful set menu planned and is only $50 a head! The menu includes, chicken and sweet corn soup, fried wontons, spring rolls, shaking beef, garlic oysters, boneless pork ribs, chilli and lemongrass chicken, fried rice, and fresh fruit.
To make a booking, please call (03) 9436 8967.
More About the Traditional Lion Dance
Traditionally, at Chinese New Year, celebrations around this date and important dates and ceremonies in Asia, a 'Lion Dance' is performed. The dance mimics a lion's movements to bring in good luck and fortune for the year ahead. For more about the lion dance, click here.