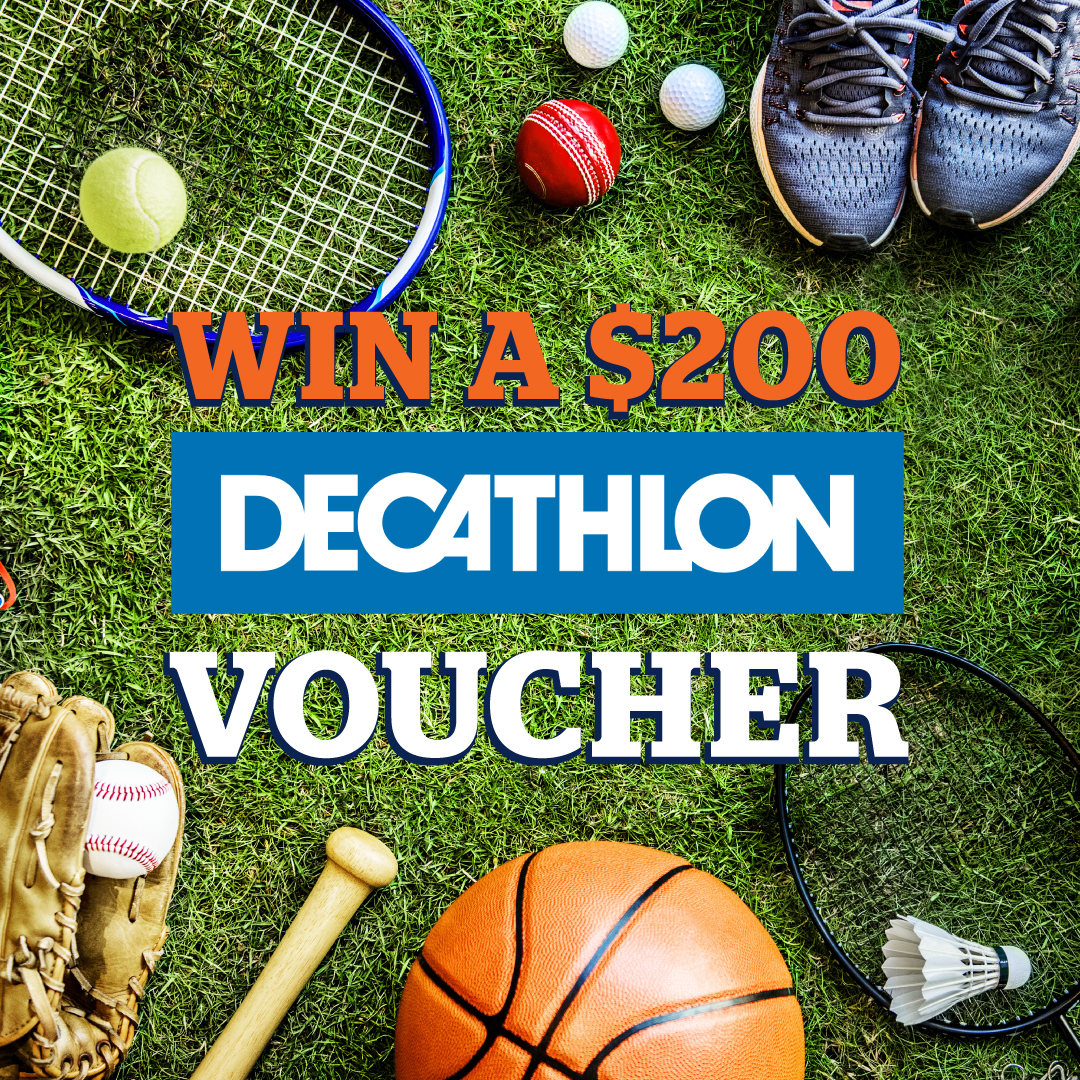 02 Feb

Decathlon February 2022 Competition

It's competition time! We're giving you a chance to WIN a $200 Decathlon gift voucher. To enter, simply fill out the below entry form.
Terms and Conditions
This competition ("Competition") is conducted by Redsteps Consulting Pty Ltd, ABN 54899459870, of 2/4 Southeast Boulevard, Pakenham, VIC 3810 ("Promoter") on behalf of Central South Morang Shopping Centre. Phone number 03 8768 9383.
Entry into the Competition constitutes acceptance of these Terms and Conditions. All entry instructions and prize information published by the Promoter form part of these Terms and Conditions.
Competition is only open to "Eligible Entrants". An Eligible Entrant is an individual who fills out the Decathlon Back To School Competition 2022 entry form on the Central South Morang website with their full name and a valid email address. The entrant must be a resident of Victoria and excludes any person who the Promoter has previously notified is not permitted to enter the Promoter's competitions. Eligible Entrants under 18 years old must have parental/guardian approval to enter and further, the parent/guardian of the entrant must read and consent to these Terms and Conditions. Parents/guardians may be required by the Promoter to enter into a further agreement as evidence of consent to the minor entering this Competition.
By submitting an entry into this competition entrants consent to receive promotional and other marketing messages from the Promoter, Central South Morang, including messages sent electronically for an unlimited period of time. Entrants will be able to opt-out at any time following the instructions included in each message sent by the Promoter.
This competition is limited to a $200 gift voucher to Decathlon for a lucky winner.
| | | | | |
| --- | --- | --- | --- | --- |
| Promotional period | Prize Quantity | Prize | Total Prize Value | Competition Drawn Date |
| 02.01.2022 – 10.02.2022 | 1 | $200 gift voucher to Decathlon South Morang | $200 | 11.02.2022 |
The competition will be drawn at the Promoters premises on Friday 11th February 2022 with winner notified within 2 days of the draw.
Winners will need to collect their prize in-store at Decathlon South Morang with their confirmation letter, a form of ID and will also need to become a Decathlon store member.
Competition opens at 9:00hrs 02/02/2022 and closes at 23:59 hrs on 10/02/2022. One valid entry per person only. All times and dates are times and dates in Melbourne which will be either Australian Eastern Daylight-Saving Time ("AEDST") or Australian Eastern Standard Time ("AEST") during the Entry Period. All times are stated using the 24-hour clock. 00:01 hrs is the start of the day and 24:00 hrs is the end of the day.
To be eligible to enter, the Eligible Entrant must enter online at centralsouthmorang.com.au during the Entry Period.
A valid email address or other contact details must be provided for the customer to have a valid entry.
An Eligible Entrant must not use more than one (1) email account to submit entries.
If a winner does not accept their prize within 1 week (7 days) of communication being sent, the prize will be forfeited and be subject to a re-draw.
Any cost associated with accessing the Competition Website is the Eligible Entrant's responsibility and is dependent on the internet service provider used. The use of any automated entry software or any other mechanical or electronic means that allows an Eligible Entrant to automatically enter repeatedly is prohibited and may render all entries submitted by that Eligible Entrant invalid.
The Promoter reserves the right, at any time, to verify the validity of entries and Eligible Entrants (including an Eligible Entrant's identity) and to disqualify any Eligible Entrant who, in the Promoter's reasonable opinion, submits an entry that is not in accordance with these Terms and Conditions or who tampers with the entry process. Errors and omissions will be accepted at the Promoter's discretion. Failure by the Promoter to enforce any of its rights at any stage does not constitute a waiver of those rights.
Incomplete or indecipherable entries will be deemed invalid.
Multiple entries are not permitted; The Promoter reserves the right, in its absolute discretion, to block any Eligible Entrant from entering the Competition.
GENERAL CONDITIONS
Prizes, or any unused portion of a prize, are not transferable or exchangeable, and cannot be taken as cash.
If for any reason a winner does not take a prize (or an element of a prize) at the time stipulated by the Promoter, then the prize (or that element of the prize) will be forfeited and will not be redeemable for cash.
If any prize (or part of any prize) is unavailable, the Promoter, in its discretion, reserves the right to exclude or substitute the prize (or that part of the prize).
Entrants consent to the Promoter using the Eligible Entrant's name, likeness, image and/or voice in the event they are a winner (including photograph, film and/or recording of the same) in any media for an unlimited period without remuneration for the purpose of promoting this Competition (including any outcome), and promoting any products manufactured, distributed and/or supplied by the Promoter.
It is a condition of accepting a prize, that the winners must comply with all the conditions of use/redemption of the prize and the prize supplier's requirements.
If for any reason the conduct or operation of the Competition is interfered with or disrupted in any way (including by vandalism, power failures, natural disasters, acts of God, civil unrest, strikes, computer bugs or viruses, tampering or technical failures), the Promoter reserves the right to cancel, terminate, modify or suspend or recommence the Competition, subject to the approval of the authorities that have issued permits for its conduct.
The Promoter assumes no responsibility for: (i) any error, omission, interruption, or delay in the operation or transmission of any communication sent to (or by) the Promoter or any Eligible Entrant whether caused by problems with communication networks or lines, computer systems, software or Internet service providers, congestion on any carrier network or otherwise, (ii) any theft, destruction or unauthorised access to, or alteration of such communications; (iii) any problem with, or technical malfunction of, any computer system or other equipment used for the conduct of the Competition; (iv) any incorrect or incomplete information which may be communicated in the course of the administering this Competition (whether as a result of one of the foregoing causes or otherwise); (v) any entry or prize claim that is late, lost, altered, damaged or misdirected (whether or not after their receipt by the Promoter) due to any reason beyond the reasonable control of the Promoter; (vi) any variation in prize value to that stated in these Terms and Conditions; (vii) any tax liability incurred by a winner or Eligible Entrant. CAUTION: ANY ATTEMPT TO CAUSE DAMAGE TO ANY WEBSITE OR THE INFORMATION ON ANY WEBSITE ASSOCIATED WITH THIS COMPETITION OR TO OTHERWISE UNDERMINE THE FAIR AND LEGITIMATE OPERATION OF THIS COMPETITION MAY BE A VIOLATION OF CRIMINAL AND CIVIL LAWS. THE PROMOTER RESERVES THE RIGHT TO SEEK DAMAGES TO THE FULLEST EXTENT PERMITTED BY LAW IN THE EVENT THAT ANY SUCH ATTEMPT IS MADE, WHETHER OR NOT THAT ATTEMPT RESULTS IN ANY SUCH DAMAGE, INTERFERENCE OR UNDERMINING.
To the full extent permitted by law, the Promoter, its related companies and Redsteps Consulting Pty Ltd, ABN 54899459870, and associated agencies and all those entities' personnel (the "Relevant Parties") exclude all liability for any loss (including any damage, claim, injury, cost or expense) which is suffered or incurred by any Eligible Entrant in connection with the Competition or prizes, including: (i) any indirect, economic or consequential loss; (ii) any loss arising from the negligence of a Relevant Party; (iii) any liability for personal injury or death. Nothing in these conditions limits, excludes or modifies or purports to limit, exclude or modify the statutory consumer guarantees as provided under the Competition and Consumer Act, as well as any other implied warranties under the ASIC Act or similar consumer protection laws in the States and Territories of Australia.
The Promoter collects personal information in order to conduct the Competition and may, for this purpose, disclose such information to third parties, including but not limited to agents, contractors, service providers, prize suppliers and, as required, to Australian regulatory authorities. The Promoter will also use and handle personal information as set out in its Privacy Policy, which can be viewed at redsteps.com.au. Entry is conditional on providing this information. By entering the Competition, unless otherwise advised by the Eligible Entrant, each Eligible Entrant consents to the information they submit with their entry being entered into a database and, in addition to any use that may be outlined in the Promoter's Privacy Policy, the Promoter may use this information in any media for future promotional, marketing, publicity, research and profiling purposes, including sending electronic messages or telephoning the Eligible Entrant, without any further reference or payment or other compensation to the Eligible Entrant. All personal details of the Eligible Entrants will be stored at the office of the Promoter. A request to access, update, opt out or correct any information should be directed to that office. Any complaints regarding the treatment of personal information should also be directed to that office and will be dealt with by the Promoter in accordance with its Privacy Policy. All entries become the property of the Promoter. Entrants' personal information collected will be shared with overseas third parties who provide services to the Promoter in order to conduct the Competition. These overseas locations are noted in the Promoter's Privacy Policy. By registering for the Competition, Eligible Entrants consent for this to occur.
This promotion is in no way sponsored, endorsed or administered by, or associated with, Instagram or Facebook. As a condition of entering into this promotion, each entrant agrees to completely release Instagram and/or Facebook from any liability or obligation in association with this competition.
Decathlon Central South Morang
Decathlon South Morang isn't your typical sports store. Featuring a broad range of activities from underwater to above the ground, they cover the needs of everyone, from weekend warriors to serious athletes. Decathlon is also a camping store, bike shop, gym store, surf shop, ski shop, and more, rolled into one huge warehouse filled with a friendly, knowledgeable, and helpful staff. It doesn't matter if you're looking for recommendations for the ideal surfboard for beginners or gear for your unique sporting needs, they're always here to help.