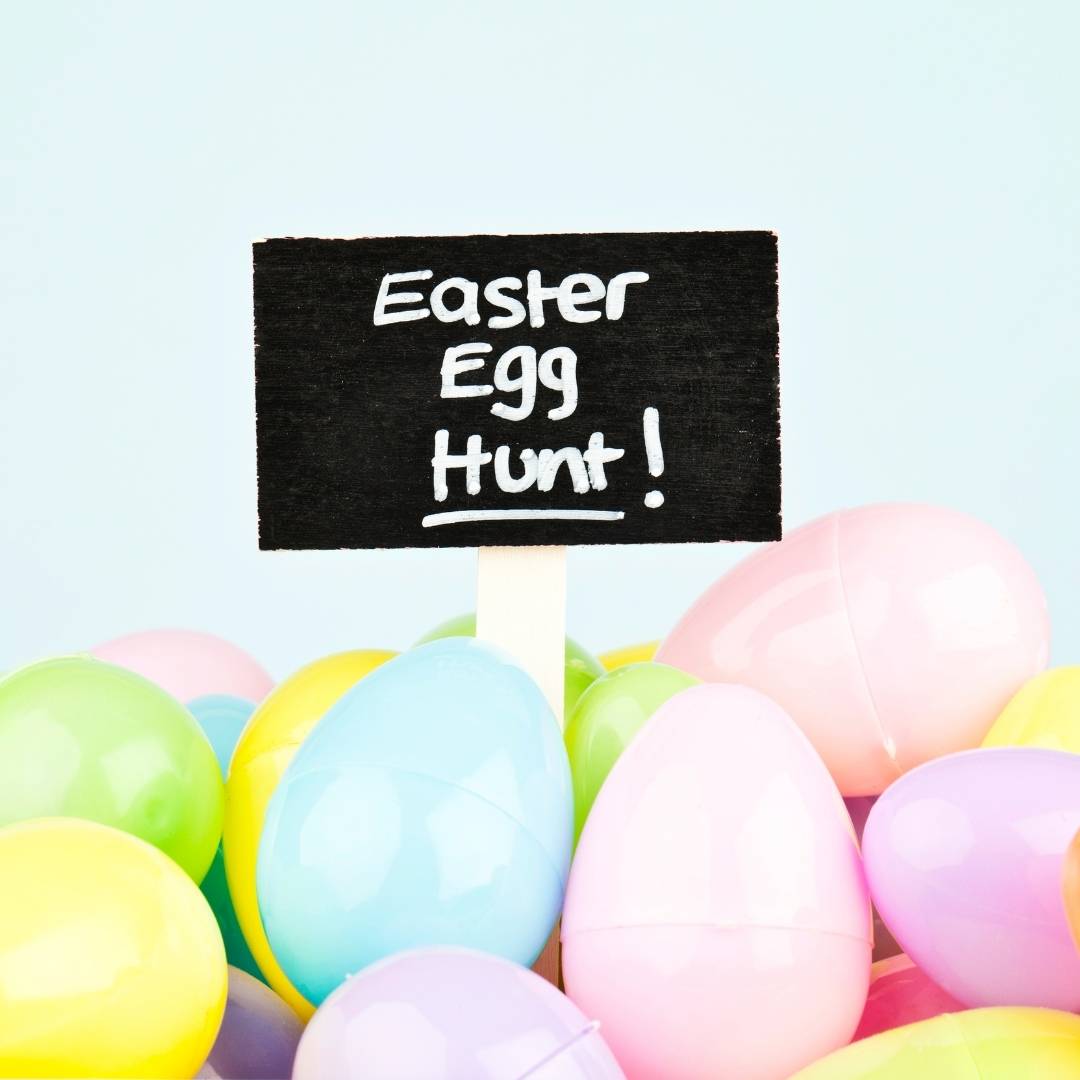 21 Mar

Fun Easter Scavenger Hunt Ideas

Perfect for both the little and 'big' kids, an Easter egg hunt or scavenger hunt makes Easter even more fun.  If you want to mix it up a bit this year, we've got you covered with these great scavenger hunt clue ideas and some great twists on the traditional egg hunt.
Scavenger Hunt Clues
If it's been a while since you've created a scavenger hunt or you're after some new clue ideas, use some of these:
If you open me up and take a look, you'll find a nice cold treat (fridge)
I have four legs, but I don't have any feet. You use me when its time to eat (kitchen table)
I'm here for you when it's time to sleep (bed)
You'll find me with my pair ready to wear (a pair of shoes)
A story, they say, can take you to a place far away. But a book still needs a place to stay. (bookshelf)
In my reflection, you'll see your complexion. (mirror)
You fill me up and drain when done. Adding bubbles is always fun! (bathtub)
I can show you many things, from cartoons, to movies, to sports, if your parents had their wish, your time with me would be short. (TV)
And here's a free printable clue sheet – just save it, print it out and you're ready to go.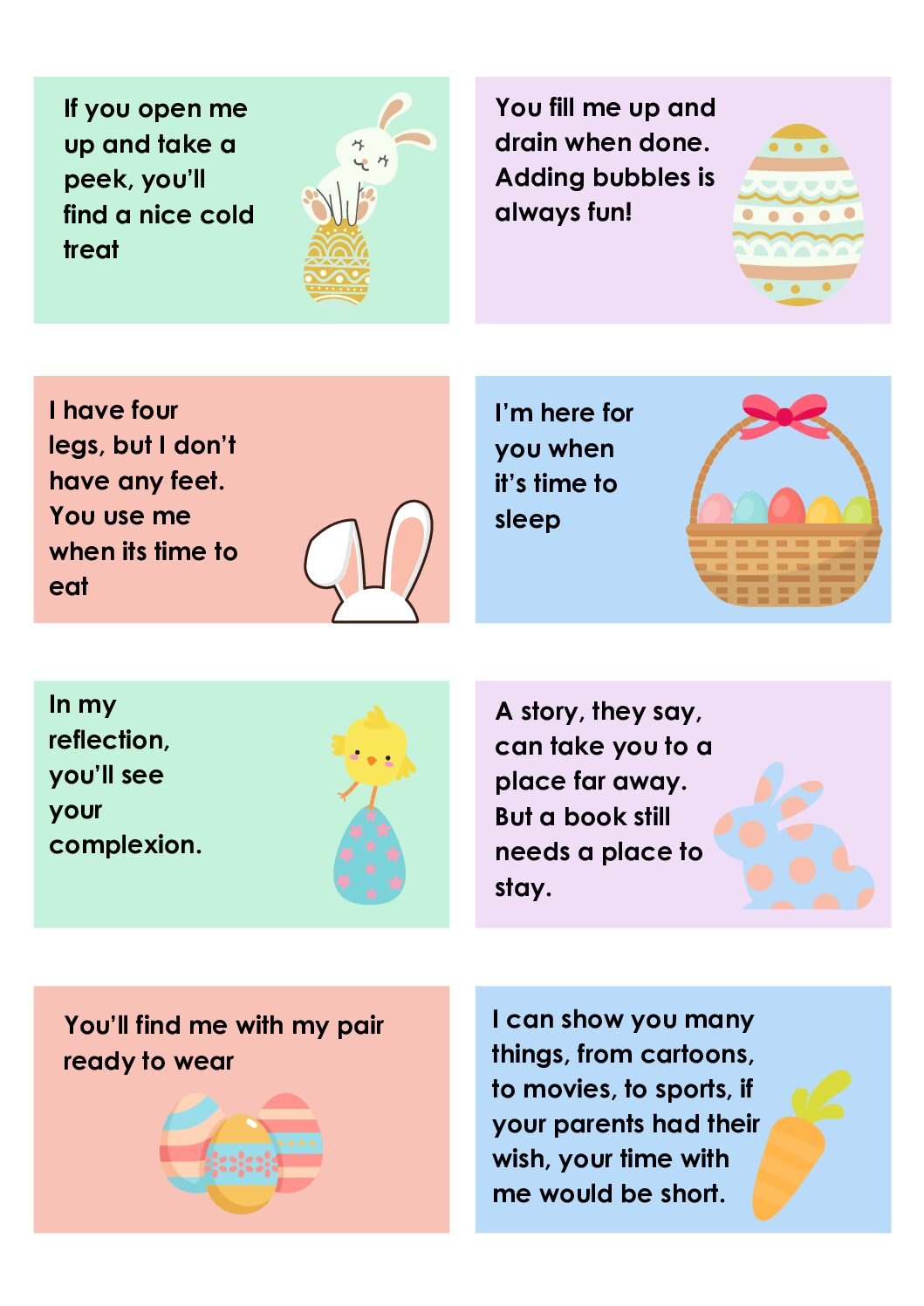 Puzzle Scavenger Hunt
The traditional scavenger hunt is usually done with chocolate eggs, but we all know what hot or wet weather can do to eggs hidden outside. So try using plastic, reusable eggs instead and pop a puzzle piece or part of a message inside.  The kids then need to work together to find all the eggs and put together the puzzle or message to find an awesome prize. This can also work well if you've got children with allergies or dietary requirements and chocolate can't be used.
Easter Reward Hunt
Another way to use the plastic reusable eggs (and not chocolate) is to fill the eggs with notes with rewards written on them. For example, choose dinner every Friday night for a month, time for an afternoon bike ride, movie night, skip chores, 15 minutes extra screen time, etc.
Reverse Egg Hunt
Usually, it's the adults who get to hide the eggs in fun new hiding places, and the kids' job to find them. Switch it up and let the kids have a go at hiding the eggs or even creating their own scavenger hunt with clues.
Team Challenge
If your family love to compete or have a bit of rivalry, split the family up into teams and see which team can bring back the most eggs. It's sure to add a bit of extra fun and competitiveness to the game.
Egg Hunt for Scavenger Hunt Experts
We all have them, those family members that are competitive or are the ones that always finish the egg hunt quicker than you expected. So, throw a spanner in the works and make the challenge a bit trickier! Grab some Easter eggs that have different colours or patterns and assign each person a specific colour or pattern of eggs they must find. It'll make things interesting!
We hope this has given you some fun new ideas for Easter this year!
To keep up to date with our latest news, retailers and giveaways, follow us on Facebook and Instagram.